Introducing the first-ever dōTERRA BOGO Box! Save on shipping and get all of your April BOGO products in one swoop! The catch is it's a surprise—you won't know what the BOGOs are until they're announced each day. This is only available on April 20, 2020, while supplies last! There's a limit of five per account.
*To qualify for the promotion, points cannot be used to purchase the April BOGO Box.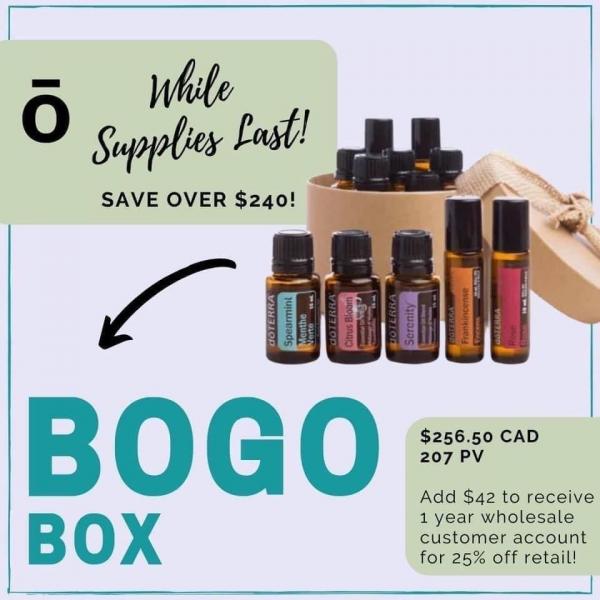 15 mL doTERRA Serenity®
15 mL Spearmint
15 mL Citrus Bloom®
10 mL doTERRA Frankincense Touch
10 mL doTERRA Rose Touch
Get an additional 7 oils!
Do the BOGOs qualify to earn Loyalty Rewards Program (LRP) Points and Shipping Reward Program (SRP) Points?
Normal rules apply.
LRP points will be based on the Product Volume (PV) of the item you are purchasing. For example, if the special were "Buy 1 Lemon, get 1 TerraShield free," you would receive LRP points based off the Lemon oil's PV value, which is 11.5. Remember that points only apply if the order is an LRP order at 50 PV or above.
Orders will qualify for Shipping Reward Program (SRP) Points based on normal qualifications.